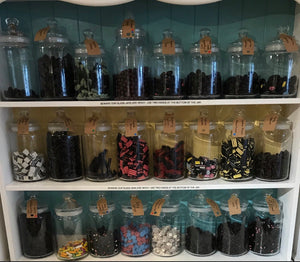 This is a pick n mix bag with a mixture of things from our liquorice cupboards. 
May include any of the following but not all :
Liquorice wheels
Liquorice rock
Liquorice torpedoes
Soft liquorice
Pontefract cakes
liquorice wands
Catherine wheels
Strawberry striped liquorice
 Banana striped liquorice 
Lion poor bens
Lion liquorice gums
Liquorice allsorts
For any allergies please contact is prior to ordering. 
For item ingredients these can be found on the individual Items on website.