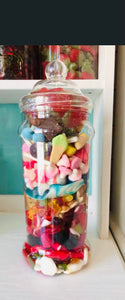 Large jar of sweets. 
We can make a jar to suit your needs please enter this in the more information at the end of your order. Choose the pick you own option. 
We will try our best to match your choice but should any sweets you request be out of stock we will contact you to discuss an alternative option.Please be aware due to stock levels we will require advance notice if you would like a £20 jar of one type of sweet.
•Pick your own
•Fizzy mix
• Foam/Jelly/Fizzy mix
•Chocolate mix
•Vegan mix
 Any allergies must be made aware to us before ordering