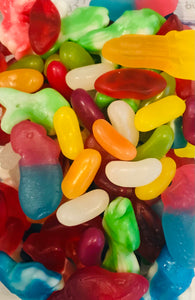 A mixture of sweets from our jelly bureau in a bag.
Some of the contents may change depending on availability but generally it will contain spacemix, jelly sharks,baby dolphins, jelly meerkats,jelly beans, strawberry twists, swirly fish….
  If you have any concerns about allergies please contact us first.
  This product may contain NUTS, PEANUTS, EGGS, MILK and CEREAL.  if you have any allergies please contact us, so that we can personalise your bag. 


Small contains 400grams Large is 800grams